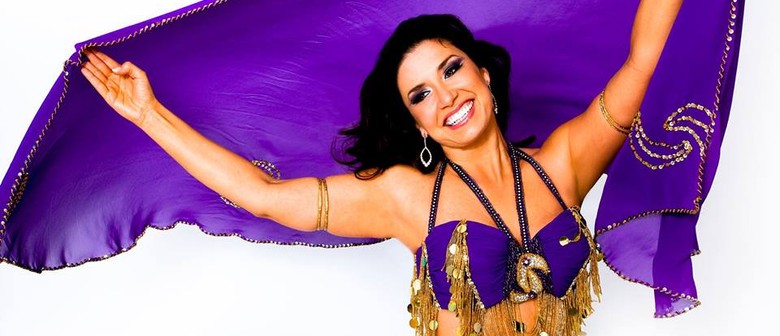 This week I wanted to share with you one of my favourite dancers. I have a few dancers who I admire for different reasons which I will talk about in the future. We all have people who inspire us and make us want to work harder so that maybe one day we can be the one to inspire others in the future.
Now anyone who knows me well enough will know that I greatly admire the dancer 'Aziza' (also known as 'Aziza of Montreal') and in many of my performances you can see her influence in my dancing.
I can watch Aziza dance all day because she is not only a very talented dancer but has such a wonderful stage presence that keeps you transfixed on her performance. When she is performing Oriental or American Cabaret style she has such grace and elegance about her that takes you to a dream like place. That's not to say that she can't be bubbly and lots of fun as shown in her drum solos and more upbeat styles of Belly Dance. I also love that she uses her head to create accents which adds that little bit of fun and you can tell she is doing what she loves.
Aziza (who's real name is Mandi Williams) was born in Portland, Oregon and began dancing ballet at the age of three. She later went on to study lyrical jazz, modern, and African but I think her ballet side really shows through in her Oriental pieces which creates that elegance.
She began belly dancing at 20 years old after a friend wanted to attend a class but didn't want to go alone. Once she attended her first class she discovered that this was an legitimate dance form and become hooked on the music, costumes and movements. After less than 6 months of her first class she began dancing professionally after getting an opportunity to learn on the job with live musicians at weddings and parties.
Once she started to do competitions she began to get recognised and was asked to be part of a show called 'Rockin' the Casbah' organised by The International Academy of Middle Eastern Dance ('IAMED') and was put on the front cover of the DVD that went worldwide. She was also asked by the Hollywood Music Centre to do a DVD featuring herself called 'Aziza Raks'.
After being asked a lot to teach she finally started and did workshops until she ended up doing a tour. Aziza currently holds her own Belly Dance retreats called 'Aziza Dream Camp' where dancers stay in a beautiful location and take part in many workshops, a show and fun games for a week. As well as Aziza, there are other dancers who are invited to teach making it a wonderful experience for any dancer. She also started up her own production company 'Aziza Raks Productions' so that she can create her own line of DVD's including her latest one 'Hand's, Arms and Poses'.
Aziza says that she is inspired by many dancers including (but not limited to) Fifi Abdou, Samia Gamal, Sohair Zaki as well as more modern dancers such as Mahmoud Reda, Raqia Hassan, Suhaila Salimpour, Amar Gamal, Jillina, Dina, Serena Ramsy, and Tito. When watching performances from other styles of dance she studies how she reacts and how the dancer makes her feel so that when she goes back into the studio she tries to incorporate it into her own movements and recreate it in the context of Middle Eastern dance.
She says that although studying classical ballet helped her with arm work and upper body when performing she believes that you don't need to study other forms of dance to do Belly Dance. As this is not only her passion but her job she is able to dedicate a lot of her life to Belly dancing. Because of this she devotes 4-6 hours a day to dancing, sometimes 8 hours a day if she is feeling inspired. By working out and eating healthy she becomes more inspired and more ready to dance due to feeling strong and more flexible.
In 2012 I finally got to attend a workshop she was teaching in London and I have to say it was one of the most challenging ones I have ever attended. She was an amazing teacher who added fun and also a lot of great tips on how to perform certain dance moves and combos. I think it was challenging due to learning a 4 minute choreography that had a lot to it, in 2 hours so even though I pick up dances well I felt that trying to keep up was difficult. Thankfully I was able to take away a video of the choreography and it has always been one dance that makes me very happy to perform.
So I hope this gives you not only an introduction to a wonderful dancer but also an inside look into how she became who she is today as well as advice on how to better your dancing. I will keep on watching Aziza dance for many years and still feel inspired by her and I hope you will too.
References:
FAQ on www.azizashimmy.com
YouTube video Aziza interviewed by Candice Frankland of Phoenix Belly Dance
Interview with Aziza on 'Hands, Arms and Poses' DVD
Dancer Inspiration – Aziza